CV

GABRIELE SCHAFFARTZIK
Born 1964 in Bremen, Germany.
Lives and works in Göttingen, Germany


Studies at Georg-August-University in Göttingen, Germany and at the Academy of Fine Arts "Jan Matejko" Cracow, Poland
After university education furthermore studies at various studios for "Byzantine icon painting" in Russia, France, Austria and Germany.
Founding member and President of the art institution (NGO) "KulturRad": Organisation of the annual "Open Houses" and of an annual group display of artists in the region around Göttingen, Germany
Member of Germany's Federal Association of Professional Visual Artists (BBK) and of "GEDOK - Society of the Association of Women Artists and Art Friends, Germany"
Participation at international art symposia in Albania, Bosnia & Hercegovina, Egypt, Germany, Kosovo, Macedonia, Montenegro, Serbia and Turkey.
Artist in Residence at Near East University/Museum of Modern Art, Northern Cyprus, in 2019, at "maumau artworks" in Istanbul, Turkey, in 2015, and at "Kalanirvana Art Residency" in Bhubaneshwar, India, in 2014.
Works are represented in private and public collections in Germany and abroad.


Collections abroad:
2022 4art Trabzon, Turkiye
2022 City of Sarköy, Turkiye
2022 Ivan Klimov Cultural Center, Kavadarci, North Macedonia
2022 City of Cankiri, Turkiye
2021 City of Seferihizar, Turkiye
2021 Tınaztepe University, Izmir,Turkiye
2021 Chateau Kalpak, Sarkoy, Turkiye
2021 USUF Organisation, Prizren, Kosovo
2020 KOLO, Int. Art Organisation, Trebinje, Bosnia and Hercegovina
2019 JU Muzeum Bijelo Polje, Montenegro
2019 Kırklareli Olgunlasma enstitüsü, Kırklareli, Turkiye

2019 Museum of Modern Art at Near East University, Northern Cyprus
2018 Trakya University, Edirne, Turkiye

2017 Preporod Gallery, Sarajevo, Bosnia and Hercegovina

2017 City of Mersin, Turkiye
2017 Museum Alija Izetbegovic, Sarajevo, Bosnia and Hercegovina
2016 TÜRKSOY Organisation, Ankara, Turkiye
2016 City of Alanya, Turkiye
2016 National Museum Ohrid, North Macedonia
2014 KIIT University, Bhubaneshvar, India
2014 Harran University, Sanliurfa, Turkiye

SOLO SHOWS
(selection)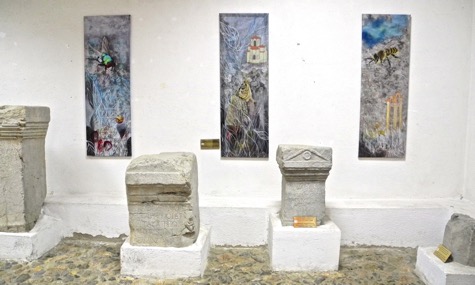 upcoming - 2023
Rathaus-Galerie, Bad Harzburg, Germany

2022
Metas Archiv - Malerei, Fotografie, Video, Installation, Künstlerhaus Göttingen - StudioGalerie, Germany
Metas Archiv - Malerei, Fotografie, Video, Installation, Stadtmuseum Einbeck, Germany
Galerie 7Kunst, Brühlfest, Quedlinburg, Germany
Stadtpartie Einbeck, Alte Tapetenfabrik, Einbeck, Germany
Kunstgalerie Marion Kotyba, Kulmbach, Germany

2021
Performance "Osterweg in Fredelsloh", Germany


2020
Fredelsloh, Germany / Klosterkirche / Heimlicht!

2019
Bovenden, Germany / Galerie Alte Schule
Prizren, Kosovo / Gazi Mehmet Pasha Hamam, Gallery I
Reinhausen, Germany / Klosterkirche/ Das Warten der Kreatur

2018
Göttingen, Germany / Torhaus-Galerie

Bad Harzburg, Rathaus-Galerie, Germany

Laatzen, Germany / Galerie Kunstkreis Laatzen

2017
Fredelsloh, Germany / Kunsttöpferei - Cafè - Galerie KLETT
Göttingen, Germany / Hospiz an der Lutter / Land im Augen-Blick
Göttingen, Germany Galerie Alte Feuerwache
Einbeck, Germany / Kunsthaus Einbeck
Hannover, Germany / Galerie boesner

2016
Hannover, Germany / Niedersächsisches Kultusministerium
Konya, Turkey / TÜRE Sanat Galerisi
Ohrid, New Macedonia / National Museum, Robevci Gallery / Terra incognita - непозната териториjа
Göttingen, Germany / Hospiz an der Lutter / Land im Augen-Blick

2015
Fredelsloh, Germany / Kunsttöpferei - Cafè - Galerie KLETT
Northeim, Germany / Pollok & Partner
Istanbul, Turkey / maumau sanat galerisi / disJOINTED - BAĞLANTIsız /
Adelebsen, Germany / studio wasserscheune / Isimsiz - Ohne Titel

2014
Lautental, Germany / Paul-Gerhardt-Kirche

2013
Hardegsen, Germany / Holztonerie
Bad Gandersheim, Germany / Galerie Kloster Brunshausen
Sankt Andreasberg, Germany, St. Martini

2012
Fredelsloh, Germany / Kunsttöpferei - Cafè - Galerie KLETT
Hardegsen, Germany / Holztonerie
Göttingen, Germany, IKL-Kanzlei

2011
Atelier Rauschenwasser / Eddigehausen

2010
Johannishof / Rosdorf
Lukas-Werk / Northeim
Treffpunkt Altes Pfarrhaus / Eddigehausen
Johannishof / Rosdorf
Sparkasse Göttingen / Ebergötzen
Buchhandlung Calvör / Bovenden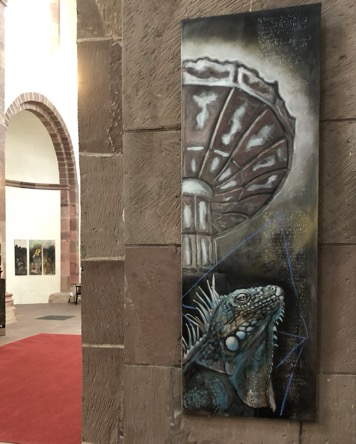 SYMPOSIA /ART RESIDENCIES (selection)
2022
4ART Trabzon, Trabzon, Turkiye
International Art Colony Kavadarci, North Macedonia
International Art Symposium, Sarkoy, Turkiye
International Art Symposium, Cankiri, Turkiye

2021

19. Uluslararası Sanatla Uyanmak Festivali 2021, Prizren, Kosovo
International Art Colony "Stari Most", Stari Bar, Montenegro

I. International Art Symposium, Tinaztepe University, Izmir, Turkey
IV. International CH Kalpak Art Festival, Sarkoy, Turkey
II. International Drawing Workshop. Seferihizar, Turkey
International Art Colony Zavicaj, Trudelj, Serbia

2020
International Art Symposium in Kirklareli, Turkey


2019
Artist in Residence at Near East University Cyprus / Museum of Modern Art
International Symposium "Slikari Lazovici"/ JU Muzej Bijelo Polje / Montenegro, 2019
International Painting Symposium "Zavicaj" / Trudeln / Serbia, 2019
International Artist meeting / Alanya / Turkey
International Art Colony / Zlatibor /Serbia
De Niro Art Colony / Bulgarica / Montenegro

2018
International Art Colony "Kolo 2018" / Trebinje / BiH
International Art Colony Kavadarci / North Macedonia
6th International Art Colony "My Escape to Freedom" / Pocitelj /BiH
5. Symposium of Traditional and Local Values / Akdeniz Universität Antalya / Sandikli /Turkey
I. International Ottoman Traces Symposium, Trakya Universität / Edirne /Turkey

2017
V. International Art Colony / Sarajevo / Gallery Preporod /BiH
International art symposium /Edirne / Turkey
International art colony Zavicaj / Trudelj / Serbia
International artist meeting /Mersin / Turkey

2016
International Culture and Art Days Alanya / Alanya / Turkey
International Art Colony / Rahovac / Kosovo
International Art Colony Mogren / Budva / Montenegro
IV. International Painting Pleinair / Panevezys / Lithuania

2015
Artist in Residence, Maumau Artworks / Istanbul /Turkey
International Artist's Workshop Sarkoy / Turkey
International Art Days / Mersin / Turkey
18. TÜRKSOY Ressamlar Buluşması /Artist Meeting / Aksaray /Turkey
International Art Colony Sarajevo /BiH
International Art Colony Becici / Budva / Montenegro

2014
"1rst International Art Days" / Harran-Universität / Sanliurfa /Turkey
Euro Kosova Art Colony / Harilaq / Kosovo
Apolo Art Colony / Fier / Albanien
X International Meeting of Art "Old Bridge 2014" / Bijelo Polje / Montenegro
International Art Colony Sarajevo / BiH
Kalanirvana International Artist Residency /Bhubaneswar / India

2013
International Art Colony / Kicevo / North Macedonia
Ostraka Art Festival / Sharm El Sheik / Egypt

2012
International Art Colony / Kicevo / North Macedonia


GROUP SHOWS

2022
Jahresausstellung BBK, Kunsthaus Göttingen, Germany
4Art Trabzon, Kizlar Monastery, Trabzon, Turkiye
Cultural Center Ivan Mazov-Klime, Kavadarci, North Macedonia
Klosterkirche Fredelsloh, Germany
International Women's Day, USART, online exhibition

2021
Jahresausstellung BBK, Kunsthaus Göttingen, Germany
Gallery I, Gazi Mehmet Pasha Hamam, Prizren, Kosovo
Stara Carsija, Stari Bar, Montenegro
Kunsthaus Einbeck, Einbeck, Germany

Offene Ateliers im Göttinger Land 2021

"Artwalk Göttingen", Germany

Perspektive '21, Ankara Music and Fine Arts University, Ankara, Turkey/ Perspektif '21 Uluslararası Çevrimiçi Karma Sergi, catalogue
here
Mask Gallery, Mersin, Turkey, online exhibition


2020
Дастаткова - enough - genug - International Women's Art Project and Exhibition / Mikhail Savicki Art Gallery-Museum of History / Minsk, Belarus
LICHT / Klosterkirche Fredelsloh & Galerie_Café Klett, Fredelsloh
Galerija Opcine Novi Grad, Sarajevo, Bosnia & Hercegovina
IAMARTIST, online art exhibition, Bhubaneshwar, India
International Online group exhibition, Korkut Ana University, Osmaniye, Turkey
2. Uluslararasi bir damla insan online exhibition, Mask Sanat Galerisi, Mersin, Turkey
4. Uluslararasi bir damla insan - sonbahar online exhibition, Mask Sanat Galerisi, Mersin, Turkey

2019
Дастаткова, enough…! / Women Art Project and Exhibition / Marc-Chagall-Museum / Vitebsk / Belarus
BBK Südniedersachsen / Jahresausstellung /Künstlerhaus Göttingen / Göttingen
Group Show of Artists in Residence / Museum of Modern Art at Near East University Cyprus
Heimat? / Stadtmuseum Einbeck / Einbeck
Kunstdenkmal - Denkmalkunst-Festival / Hann.-Münden
Spuren / Galerie am Thie / Bovenden

Art Gallery Crvna Komuna, Petrovac, Montenegro
Gallery Gazi Husrev- Beg Hanika, Sarajevo, Bosnia & Hercegovina


2018
Offene Ateliers im Göttinger Land
studio Wasserscheune / Adelebsen

Museum of Hercegovina, Trebinje, Bosnia & Hercegovina
Gavrankapetanovic House/International Art Colony, Pocitelj, Bosnia and Hercegovina


2017
27. Traditional exhibition for the international museum day / Galerija Robevci / Ohrid I North Macedonia
"Art exchange 2017" / Galerie ARKA / Vilnius / Lithuania
Denkmal! Kunst - Kunstdenkmal 2017 / Duderstadt
Mersin Congress and Exhibition Palace, Mersin, Turkey

2016
Yunus Emre Kulturzentrum– Çetin Emeç Art Gallery / Bakırköy / stanbul / Turkey
Galerie Kloster Brunshausen / Bad Gandersheim

Gallery XX, Panevezys, Lithuania

studio wasserscheue / Adelebsen
Offene Ateliers im Göttinger Land
22. Kunstausstellung "Natur - Mensch" / Nationalpark Harz / Sankt Andreasberg
70 Jahre BBK Harz - "ZeiTräume" / Kreishaus Goslar

2015
"Fokus Harz" /BBK Harz / Lewer Däle, Liebenburg
Artist talk at maumau / Istanbul, Turkey / with Cara Cole, Pilar Guinea, Gabriele Schaffartzik, Jan Valik, Pau Cata
"Übergänge - Leben und Tod" / BBK Harz / Marktkirche St. Costas und Damian / Goslar
Embassy Gallery / Skegness / GB
Studio Wasserscheune / Erbsen
Offene Ateliers im Göttinger Land
gemeinsam / BBK Harz / Museum Goslar / Goslar
Stari Most / Stadtmuseum Perast / Montenegro

2014
Atelier Rauschenwasser / Bovenden
anSehen / Kunst in Fredelsloh
Exhibiton of the Apolo Art Colony / Galeria E Artit Fier / Fier / Albania
International Art Exhibition Kosova / Prizren / Kosovo
Wandlungen / Aegidienmarktkirche /Osterode am Harz.
Studio Wasserscheune / Erbsen
Offene Ateliers im Göttinger Land
Zeitgleich-Zeitzeichen 2014 / Kreishaus Goslar
Kunstmarkt Bovenden
BBK Harz / St. Aegidien / Osterode am Harz
Lalit kala. Akademi - National Academy of Art, Bhubaneshwar, India

2013
Kunst in der Scheune / International Museumsday / Obernfeld
Kunst in Fredelsloh / Fredelsloh
House of Arts / Kicevo / North Macedonia
Studio Wasserscheune / Adelebsen
Offene Ateliers im Göttinger Land
Kulturno Informativen Centar / Skopje / North Macedonia
Denkmal! Kunst - Kunst! Denkmal / Hann.-Münden
Dom na kultura Kavadarci / North Macedonia

2012
Atelier Rauschenwasser / Bovenden
Kunsthandel Cyrny / Fredelsloh
Studio Wasserscheune / Adelebsen
Offene Ateliers im Göttinger Land
House of Arts / Kicevo / North Macedonia
Kulturno Informativen Centar / Skopje / North Macedonia

2011
Offene Ateliers im Göttinger Land
Studio Wasserscheune / Erbsen
Palazzo Zenobio / Venedig / Italy

2010
Palazzo Zenobio / Venedig / Italy
Foyer des Kreishauses / Göttingen
Offene Ateliers im Göttinger Land
Kunstgala / Stadthalle Göttingen
Rittergut Besenhausen / Friedland
Herbst-Hof / Fredelsloh

Gallery One - Gazi Mehmet Pasha Hamam in Prizren, Kosovo 2019